I'm still pretty happy with the way these illustrations turned out. I did what I could with my then-limited art skills. Plus, Helen in a crazy beehive!
The program book cover is based on a poster for the movie Lady Frankenstein: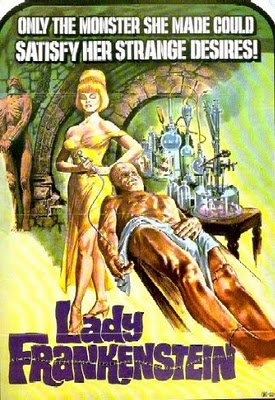 I mean, how boss is that poster? That is the best poster.
The T-shirt illustration is a collage of mad-science stuff I'd collected over the years. I was into making collages for a while. The quote from Dr. Vorloff is from the Ed Wood movie Bride of the Monster, source of many great mad-scientist lines. ("Home? I have no home. Hunted! Despised! Living like an animal! The jungle is my home. But I will show the world that I can be its master! I will perfect my own race of people. A race of atomic supermen which will conquer the world!") Trelone is the scientist who creates the intelligent dog Sirius in Olaf Stapledon's novel Sirius. "Bits and pieces" is from the Oingo Boingo song, of course. And I've got a photo of Nikola Tesla and everything, so this is one classy production.